WELCOME TO THE COURSE THAT TURNS MESSY INTO BEAUTIFUL
...

WHAT YOU RECEIVE


▲
Messy Movement
- 10 x HD Yoga and Movement Lessons - Worth £300 ($410)
Strengthen your body and mind, improve your flexibility, increase your productivity; have overall better physical and mental health - A healthy body, a healthy mind, and vice versa!
▲
The Zen Den
- 8 x HD Breath and Meditation Lessons - Worth £200 ($273)
Let go of your inner clutter or monkey mind; clear your headspace so you can reduce stress and anxiety, be happier, more focused and present in your daily life.
▲ Winner Winner Healthy Dinner - Small WINS Equal BIG Results - Worth: Your Time is Priceless!
Bite-size lessons take little time and little effort and can easily fit into your daily life! They are 'Small Wins'. Meaning you don't need to spend countless hours trying to get the results you want when the tools you seek are at the click of a button.  
▲ Infinite Love - Lifetime Access to all the Course Material and New and Updated Content, FOREVER! - Worth: Your Self Worth.
No monthly subscription! - For a one-time payment, you get instant access with a LIFETIME MEMBERSHIP to NEW and exciting updated content regularly.
▲ Big Hugs - Lifetime Access to the VIP Messy Members Facebook™ Community - Worth: Invaluable.
You are not alone; you are part of a global community of like-minded people to befriend and support you (this is invaluable); we are your tribe! - This is your place of solace.
▲ Brain Chill - 4 x HD Yoga Nidra for Self-Love and Deep Sleep - Worth £80 ($102)
Reduce cortisol (the stress hormone); calm your nervous system, and find your peace in a frantic world.
▲ Miracle Mindset - 11 x HD Lessons to Unleash the Power of Your Mind - Worth £150 ($205)
Understand how with your thoughts and mindset alone, you can change your physical, emotional and mental wellbeing, giving you the power to manifest the life that you desire.
BEAUTIFUL BONUSES
▲ Sharing is Caring - Messy VIP Partnership Scheme - Worth: Your Investment For This Course Back $$$
Enhance your loved ones' lives and make money for yourself at the same time; get your investment for this course back, and MORE! By joining the VIP Partnership Scheme; meaning for every person you get to sign up for this course you will get 50% of the investment - Enroll 2 people into A Messy Kinda Beautiful and get this course for FREE!
▲ Messy Playlists - Uplifting Positive Music to Go with the Flow - Worth: Your Time Out!
Personally, selected music playlist's to suit any mood. - No need to search for inspiring music to accompany your practice; I've got you covered! 
▲ Double Discounts - Be the First to Know, and Get Discounts on Future Courses, Events and Retreats Worldwide - Worth £160 ($219)
A Messy Kinda Beautiful members are VIP's; meaning you are always the first to know and receive exciting offers and discounts yearly! - Including a 25% discount on the Messy Tribe Subscription.
▲ Delve Deep and Discover - A 55-Page Inner Workbook - Worth £50 ($68)
Through journaling and self-reflection, you will obtain a deeper awareness of the parts of your life that may be holding you back, by observing your thoughts and acknowledging your strengths and weaknesses, you will discover where you can make changes in your life for the better.
FAST ACTION BONUSES


▲ Self-Love Secrets on the Go - Self-Love Tips That You Can Implement into Your Daily Life Right Now - Worth £50 ($68)
Through practising these self-love secrets, you will find that your life, friendships, and relationships will be enhanced through the power of understanding that love begins within YOU - 'Love yourself first!'
▲ Video Response Consultation - Connect With Me Let Me Point You In The Right Direction - Worth £100 ($137)
I offer you additional private advice and support to save you time and help you achieve your personal goals and intentions faster!
A grand total worth of £1090 ($1482)
Normally £726 ($997) yours today for only £362 ($497)!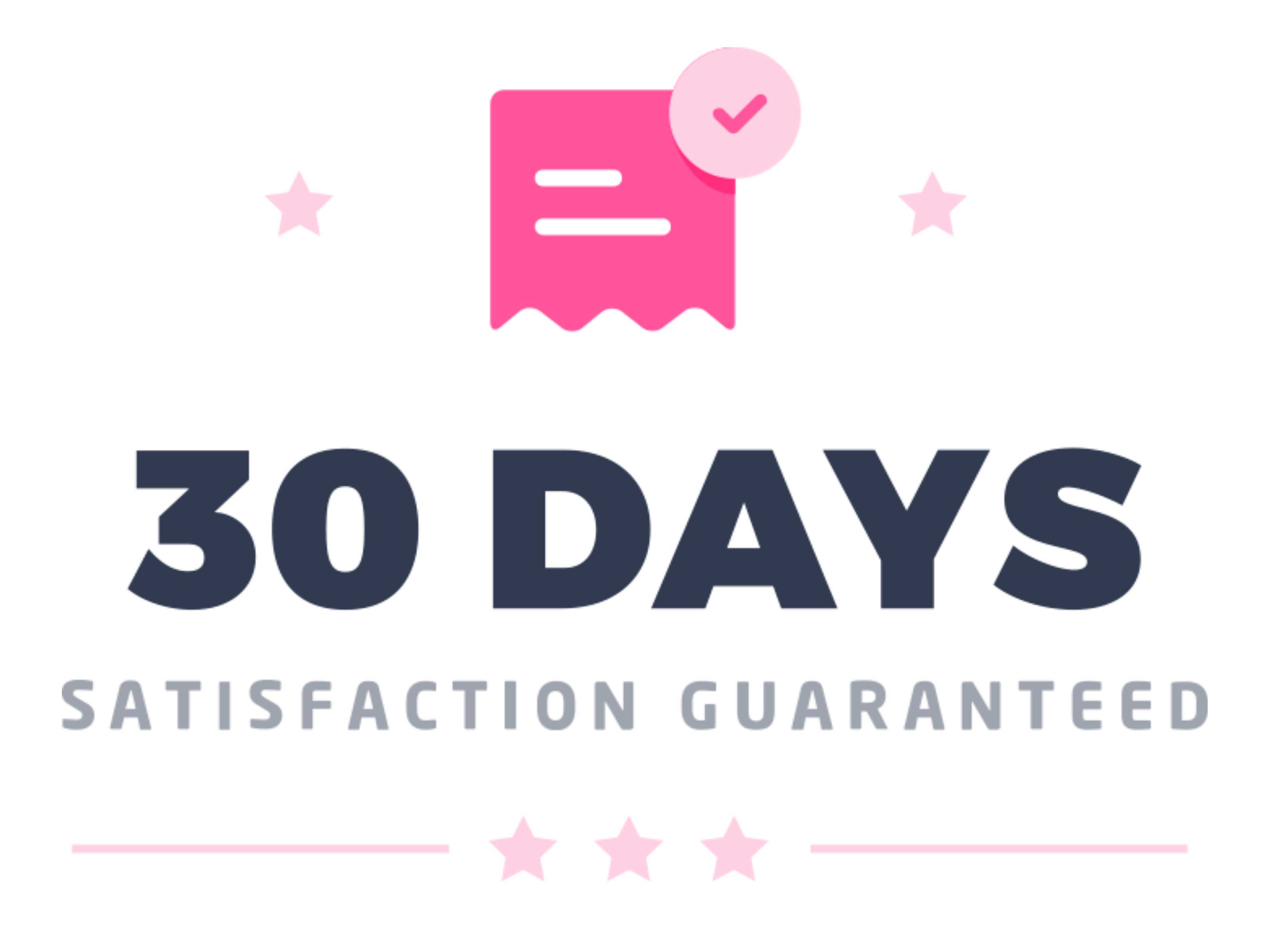 My Promise To You - A 30-Day Money-Back Guarantee!
I am so proud of this course and what it has already achieved for so many people, and what it can achieve for you, that I offer you a 30-Day Money-Back Guarantee. Meaning that you have the peace of mind knowing that if you are not happy with this course for any reason in 30 days, I will give you your money back! - Your satisfaction, and what you gain from this course is my biggest priority!
▲ The 5 Step Self-Transformation ▲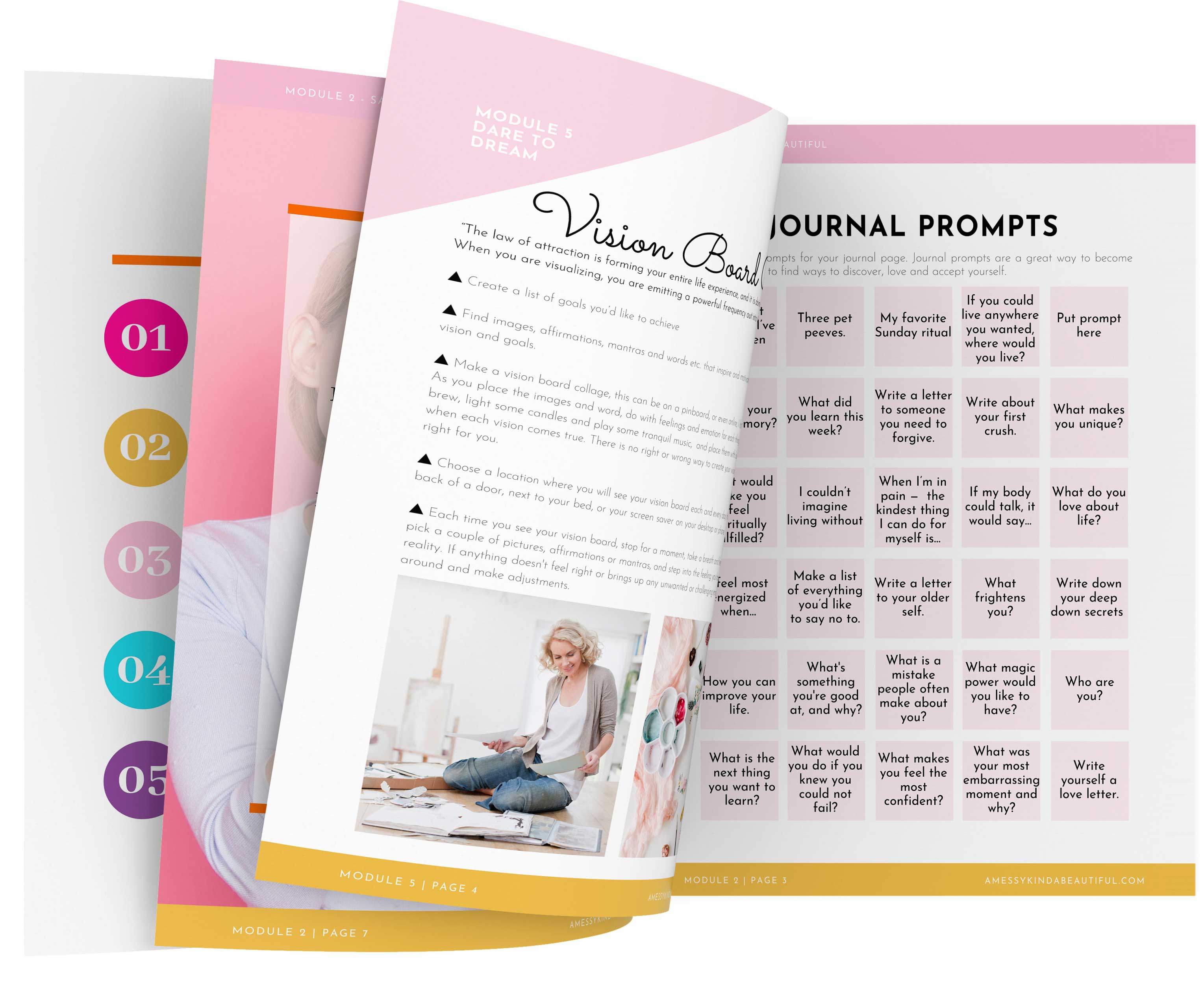 By setting goals and intentions you are creating a pathway for your journey ahead, this gives you direction and focuses in on what you really want in life, meaning you can zero in on your hopes, dreams and desires.
Through journaling acknowledge your limiting beliefs, realise what might be holding you back, replacing what's blocking you with positive thoughts and intentions, and flourish in all areas of your life.
Become the best version of yourself, start your day with a daily dose of Self-Love; the understanding of loving yourself first...
Realising that your outer world reflects your inner world will transform your life, giving you more time to concentrate on the people and things you love.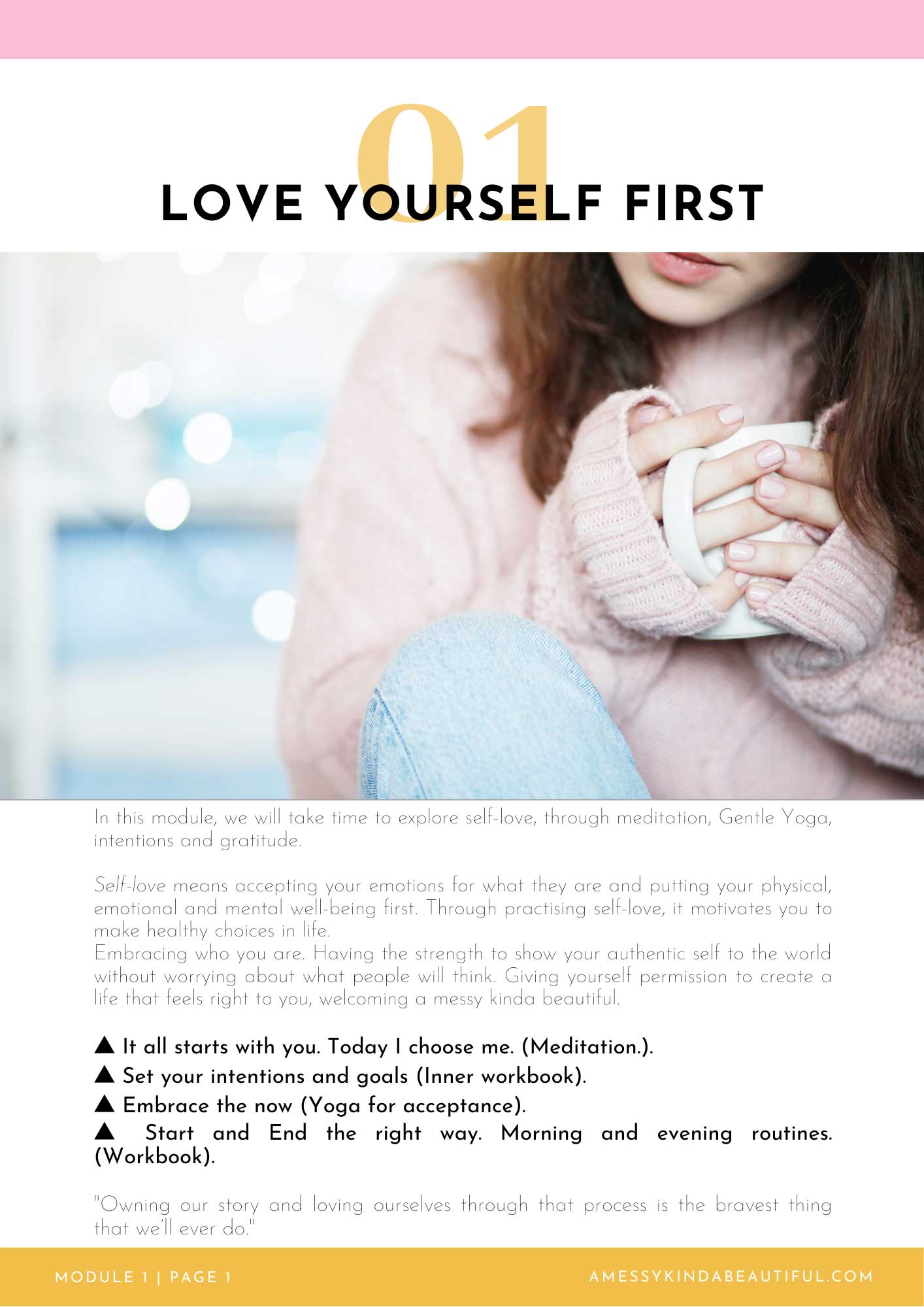 Love Yourself First
In this module, you will explore self-love through meditation, gentle yoga, intentions and gratitude. Through practising self-love and gratitude, you will understand the Law of Attraction, and how to draw positive energy into your life, giving you the power to manifest the things that you really want - Like attracts like, you get what you give out!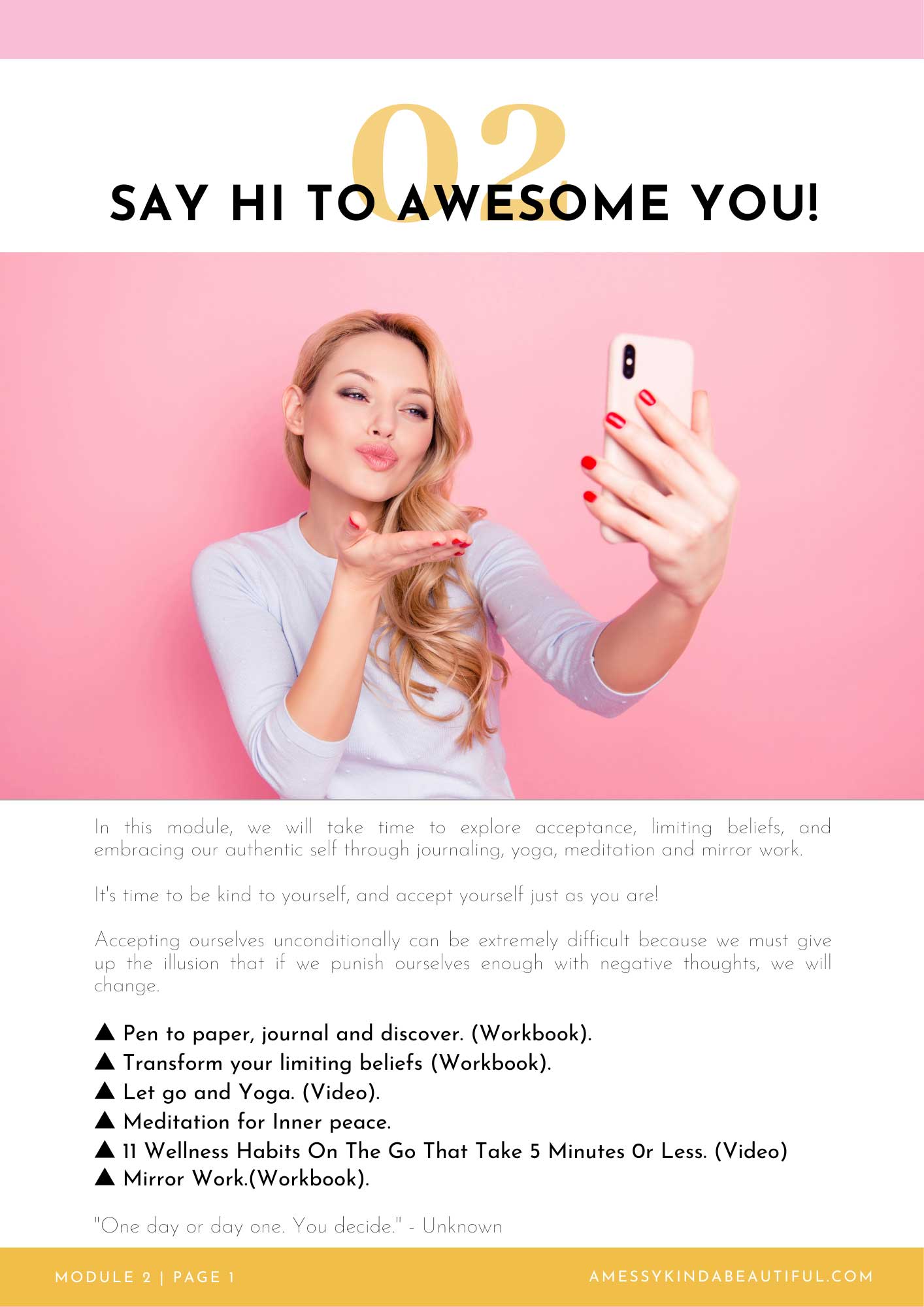 Say Hi To Awesome You!
In this module, you will explore acceptance, limiting beliefs, and how to embrace your authentic self through journaling, yoga, meditation and mirror work. Increase your awareness of any blockages in your life, and learn how to release them, freeing any negativity you may be holding on to by rewiring your mind, strengthening your self-belief and building your confidence.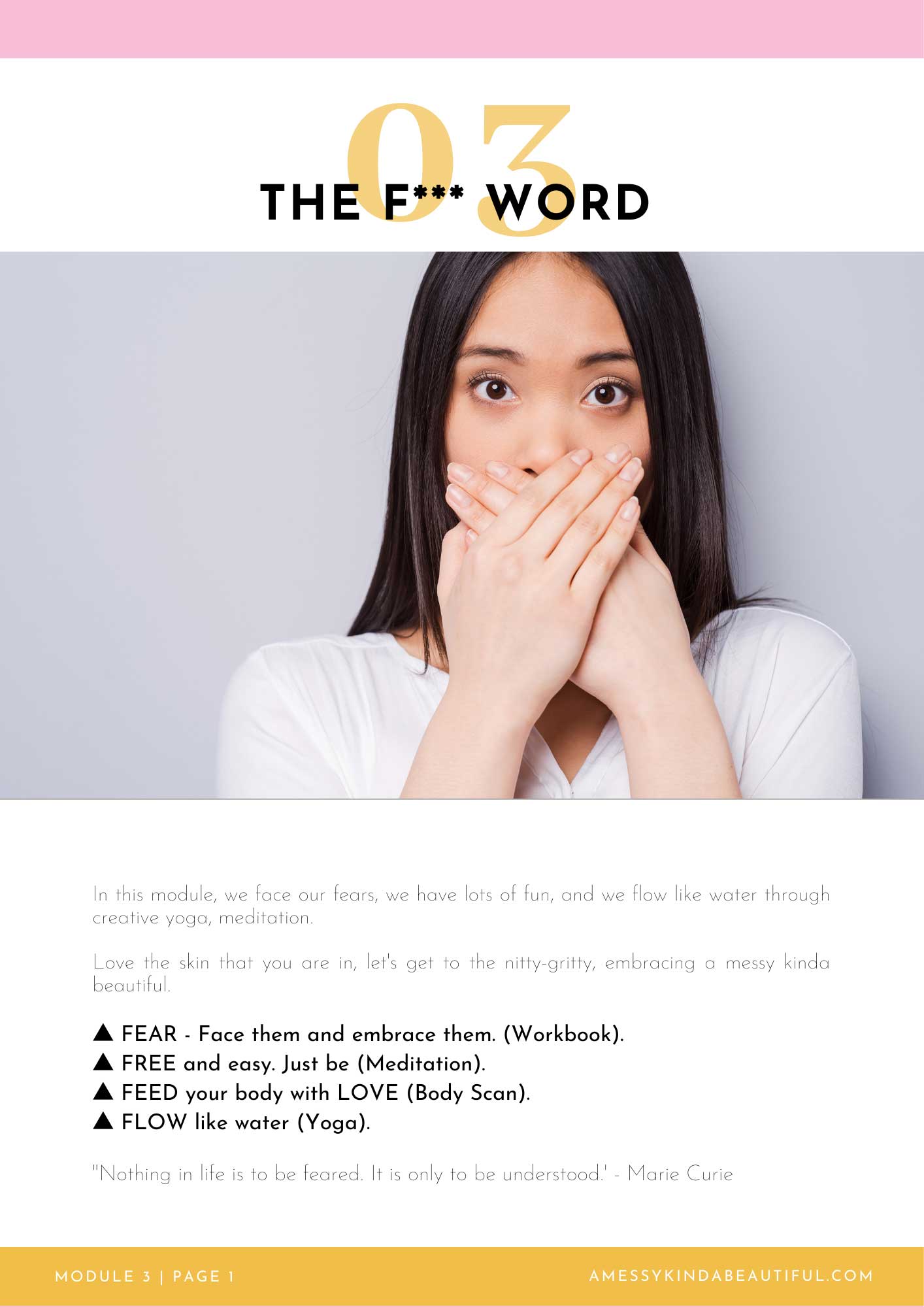 The F*** Word
In this module, you face your fears and discover the exciting mysteries that lie within; you will have lots of fun, and flow like water through creative yoga and meditation. Love the skin that you are in, find balance in your life, manage your health, have more energy and become a high performer, as your self-esteem and zest for life increases with less stress and more clarity.
I've Got The Power
In this module, raise your vibration, focus on your strengths, put to one side your limiting beliefs, embrace your amazing self and realise your true potential in life through movement, self-reflection and yoga. There is never EVER going to be another you, treat yourself like the VIP that you are! - Step into your power.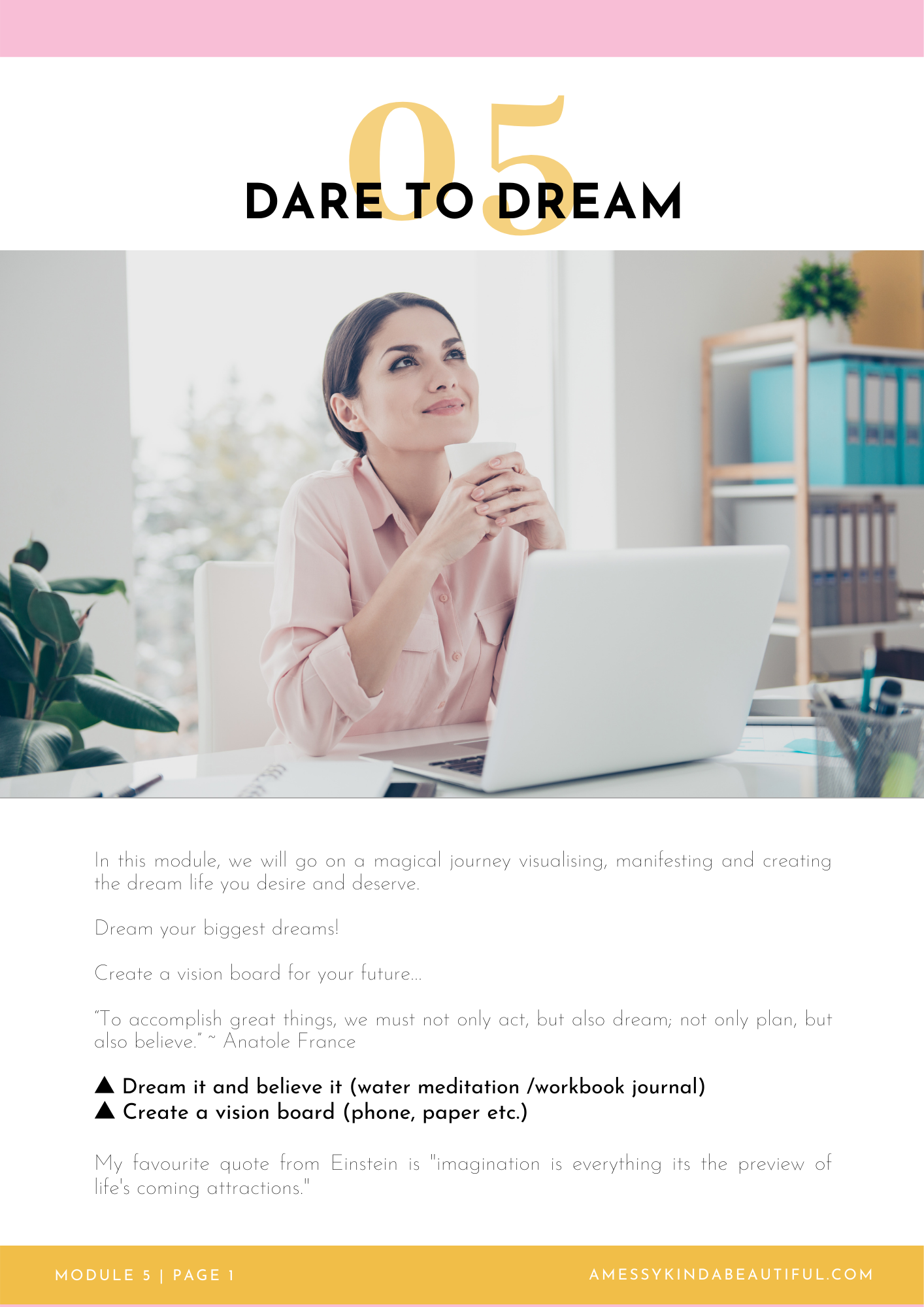 Dare To Dream
In this module, you will go on a magical journey visualising, manifesting and creating the dream life you desire and deserve! Dream your biggest dreams; create a vision board to manifest your future through meditation, visualisation, and the power of your thoughts; when you believe it, the mind can achieve it!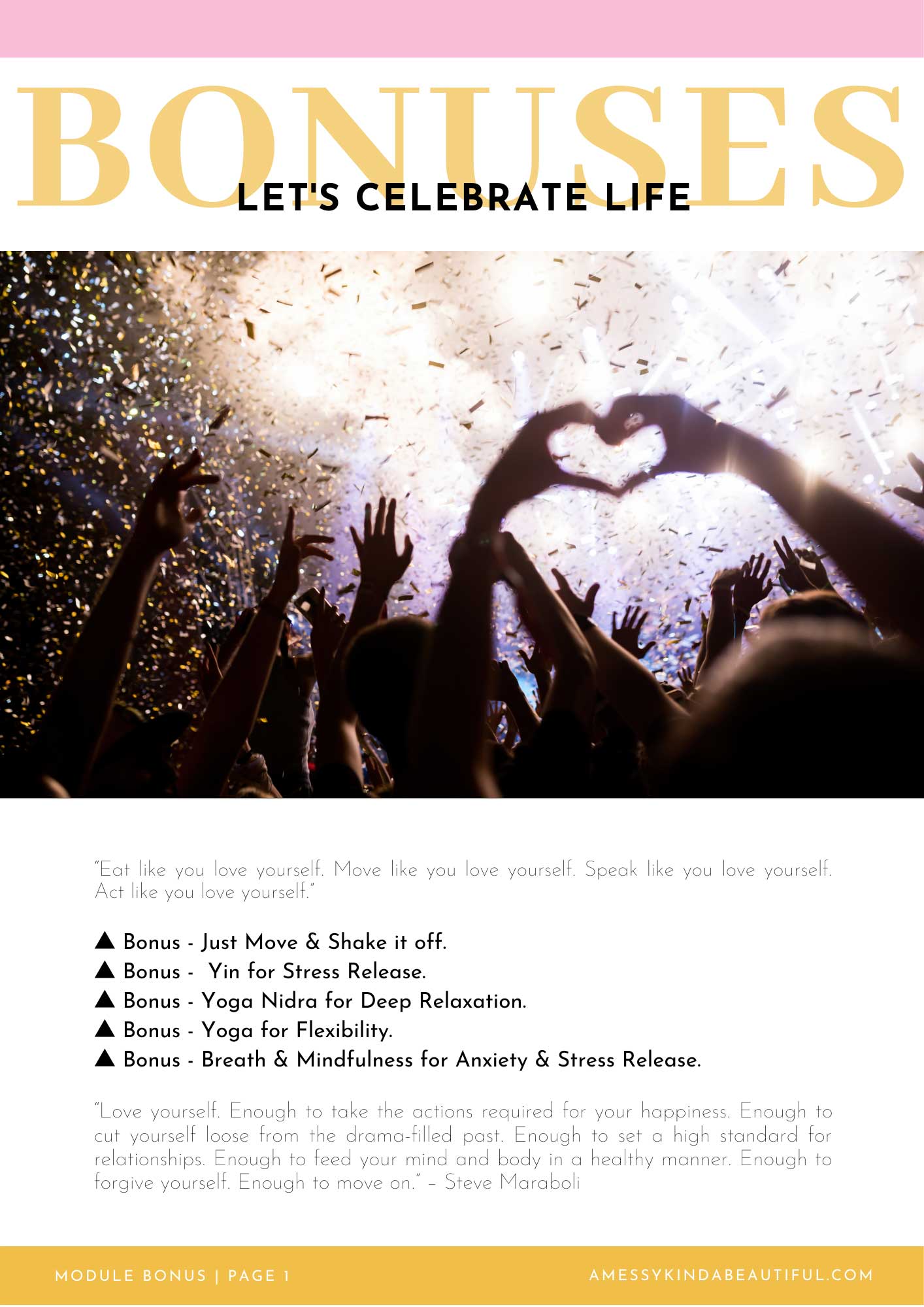 Let's Celebrate Life
Be the awe of your tribe, shine from the inside out by simply being the reflection of your inner self (-love)! It's time for you to celebrate and see how far you have come; meaning by the end of this course you will have become a super manifester, and will realise how once your mindset changes, your life follows allowing you to thrive forever!
Frequently Asked Questions


Is this just another yoga course?
No, this course is much more than that! It's a course of self-love, wellbeing, self-development and personal growth. A Messy Kinda Beautiful encapsulates the best aspects of all wellness avenues so that you get the maximum benefit possible!


What if I can't stick to a wellness plan/course?
Not to worry, as this course is specifically designed to be digested in bite-sized lessons, meaning that it is easier for you to take in; watch it as and when you please in the ease and comfort of your space - Again, SMALL WINS create BIG results!
Is this an online course?


Yes, this is an online course so that it can be watched at any time from anywhere, meaning that you can easily fit it into your daily routine. 


Who is this course for?
A Messy Kinda Beautiful is for everyone! Delve deeper and discover more about yourself, reach your full potential, thrive, and live life to the fullest.
When does the course start?
Immediately, if you wish! After signing up you get instant access and an email welcoming you; however, you get a lifetime membership to all the course material so that you can complete it as and when you desire at your own pace.
How long is the course?
A Messy Kinda Beautiful is over 8 hours worth of content (so far), for you to take at your own speed, with the added bonus of a 55-page Inner Workbook. Nevertheless, as a lifetime member, you will have access to the continually updated new and exciting content, with the additional extracurricular activities, like the VIP Messy Members Facebook™ Community, which makes this course endless!
Is this course pre-recorded or interactive?


It's both! The syllabus, or the course's main body, is pre-recorded to jam-pack it with content and break it down into bite-sized lessons for you, making it easily accessible for all. However, the rest of the course outside of the curriculum is interactive on Facebook™ - Come and join the fun!
What if I can't afford the course right now?
I can offer you a monthly payment plan to make it easier for you to purchase the course; however, you pay a little bit extra over a 4 month period for the privilege (see above or below at the pink button). Alternatively, you can buy the course right now and get a 25% discount!
What is the Messy Tribe Subscription?
The Messy Tribe Subscription is a membership to the weekly LIVE interactive Messy events on Zoom™; in-depth workshops, extended interactive classes, LIVE Q and A's, dance parties, yoga master classes, miracle meditations, self-love socials, creative movement, soulful sound, and much more.
Messy Tribe Subscription is a separate LIVE interactive addition to the A Messy Kinda Beautiful course. However, as a Messy Member, you can enjoy a 25% discount off the subscription fee! - See the Thank You Page after the checkout for more information, or email me below.
How do I contact you?
You can contact me at [email protected], and I will get back to you as soon as possible.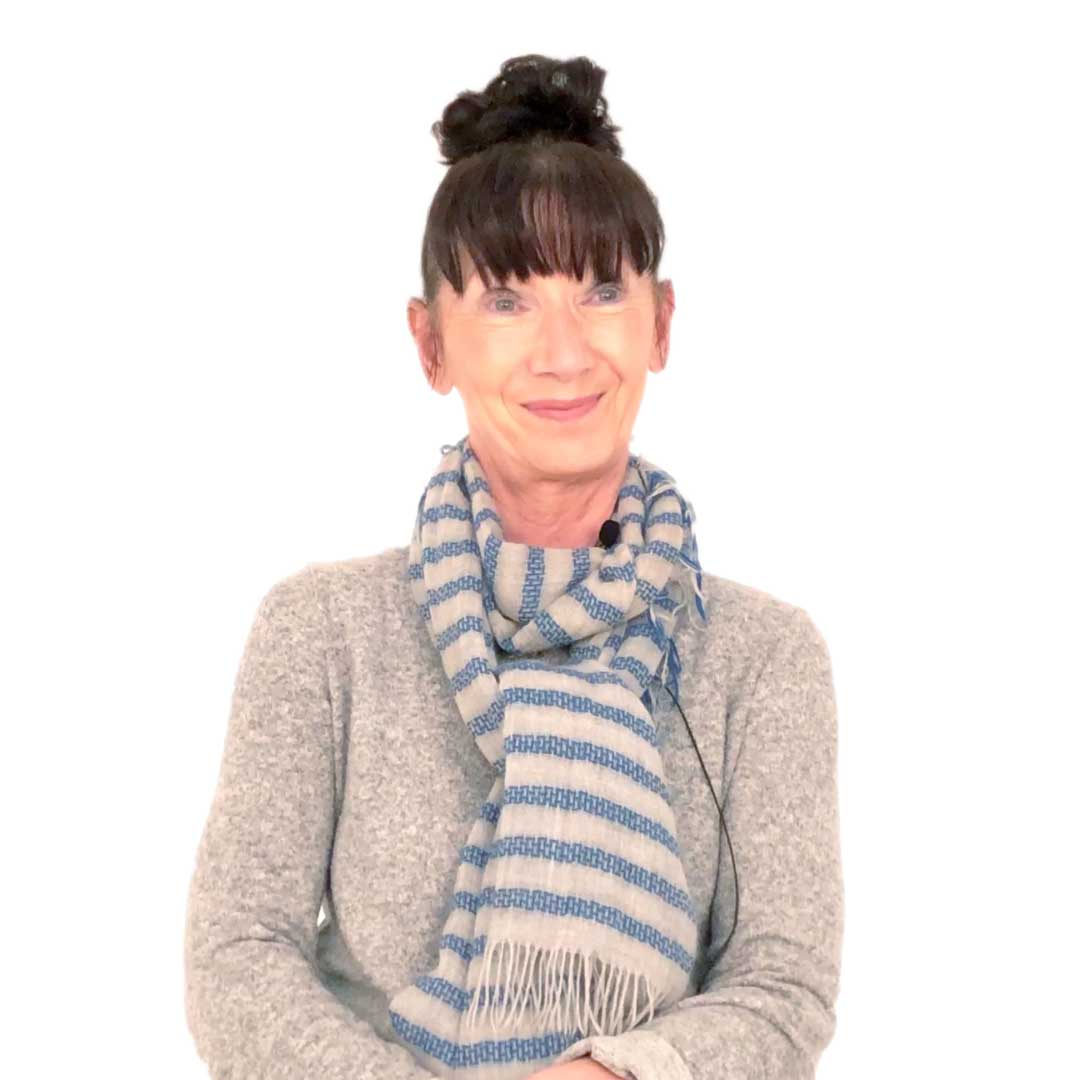 Karen's Testimonial
"I cannot imagine practicing yoga without Mimi, I feel so lucky and privileged that I have met Mimi, and been able to share my yoga journey with her."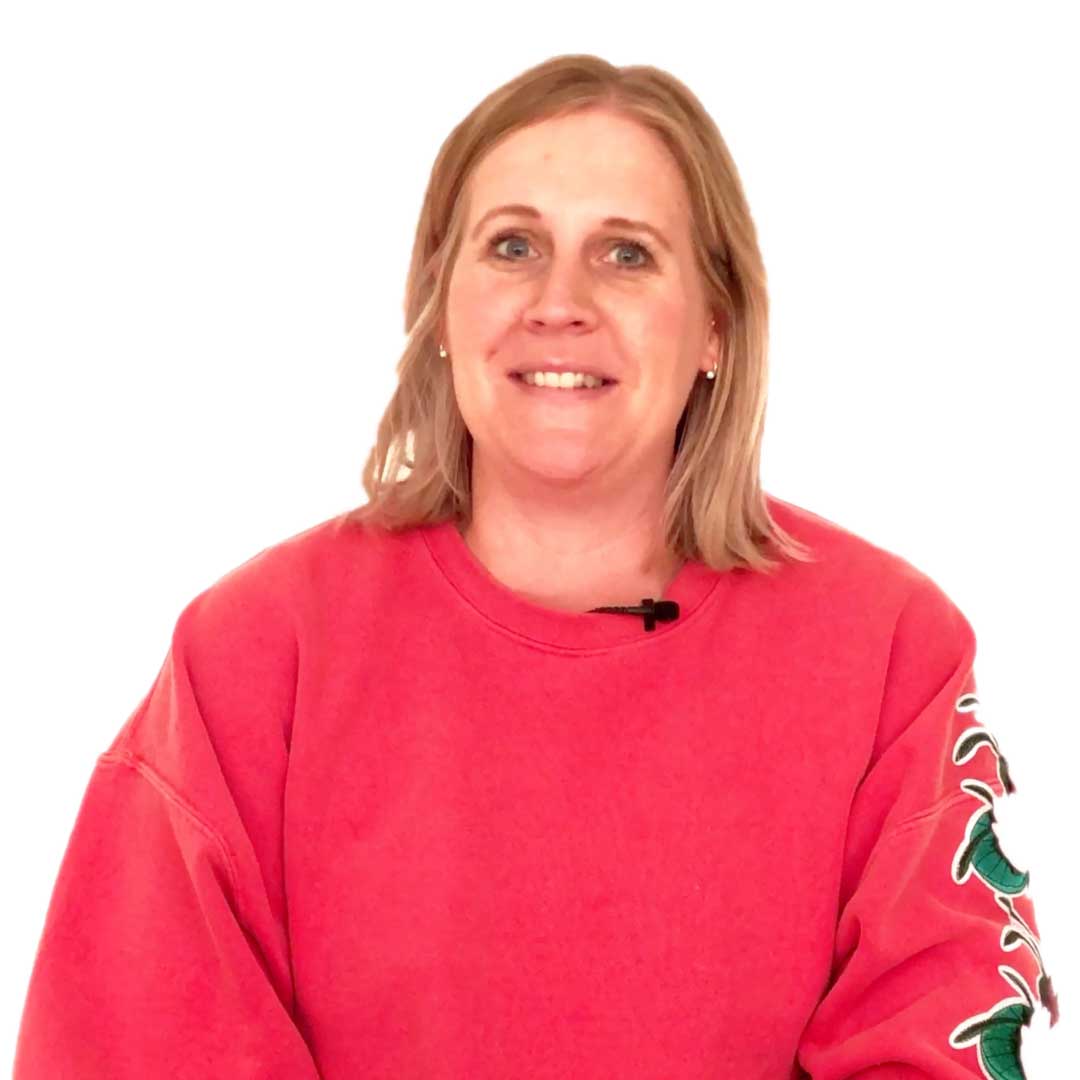 Nicole's Testimonial
"Mimi is amazing!
She's super flexible, but just generally flexible, she really takes on board what you want to do, what you can and can't do."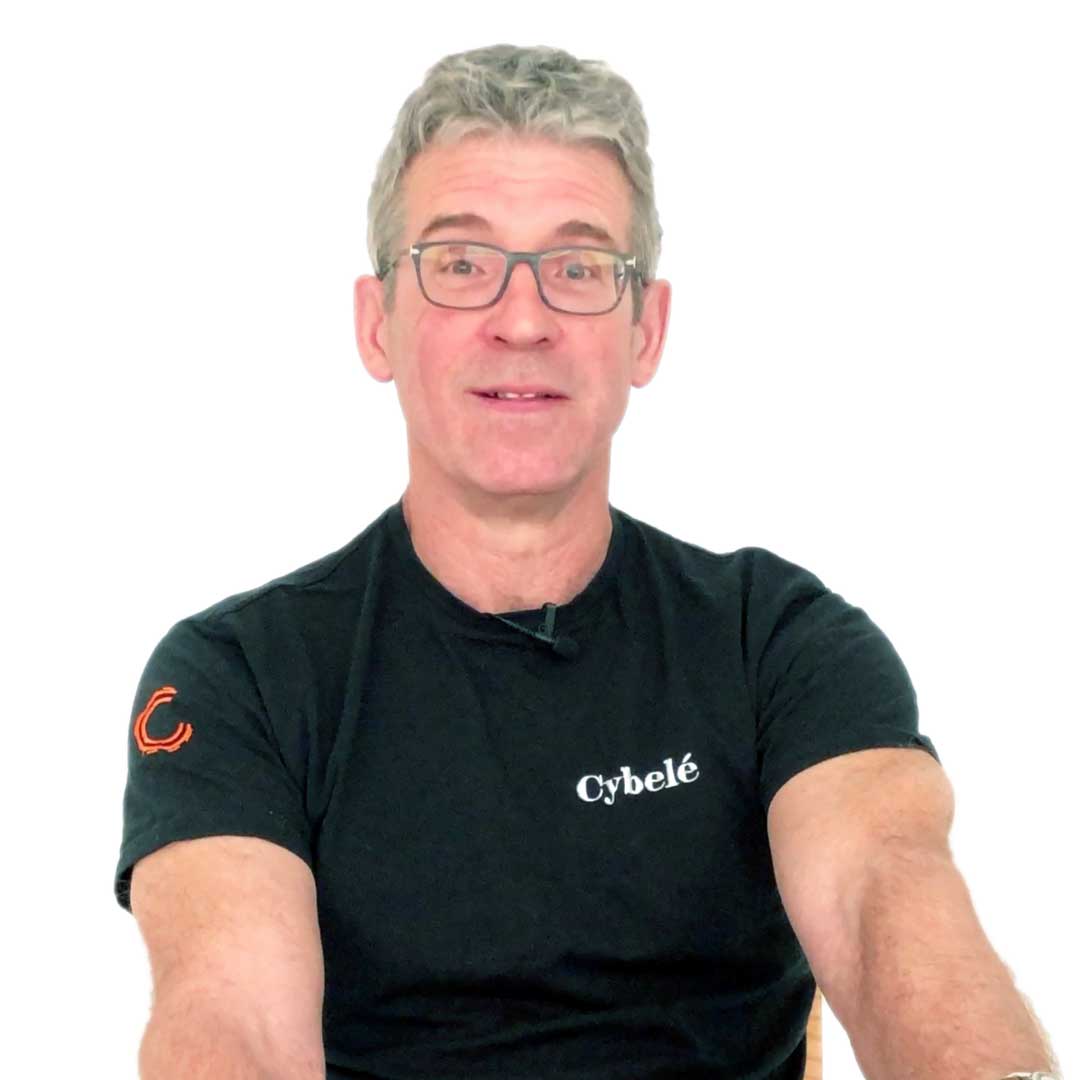 Dave's Testimonial
"When you come into Mimi's class you leave your shoes, your ego, and your inhibitions at the door, and you go and play, and Mimi draws the best out of you!"